Improving your Child's Skills with Extra Coaching | Pro Training Tips for Youth Sports
Should you hire a professional coach to help your child?
March 22, 2023
Improving your Child's Skills with Extra Coaching | Pro Training Tips for Youth Sports
For the many parents wanting to help their children improve on their chosen sport and for those who want to find a sport their kids are passionate about, this blog is for you. Did you know that there are tons of summer camps, weekly sessions, and even private coaching available for our kids? In this article we are not only going to tell you how to find a professional trainer or coach to help improve your child's skills or introduce them to a new sport, but what to look for and the benefits of doing so.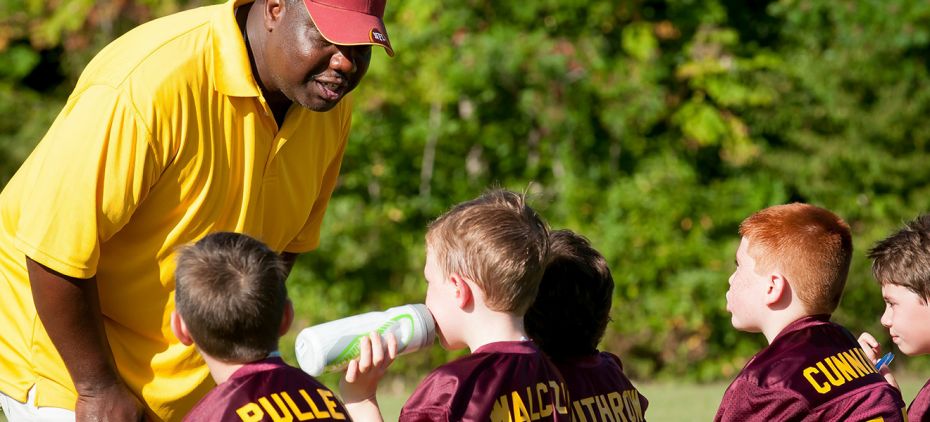 First, let me just say that you don't have to be grooming the next Olympic gold medalist or future NHL star to want to enroll your son or daughter in extra sport training sessions. Perhaps your child is interested in soccer, but not 100% sure it is the sport for them. Putting them in training sessions is a great way for them to try soccer and be able to decide.
Hiring a private trainer or coach is also done by parents who want to help their kids improve on a certain skill or are looking to keep them sharp during the off season … Whatever your reason, CoachEasy makes it simple to find the right trainer for your situation and schedule. It is a platform that brings youth, parents, and pro coaches together in a fun and effective way.
Picking Sports Coaches and Trainers didn't used to be so Easy.
There are a lot of considerations in finding and choosing the right coach for our kids. Are they offering age appropriate drills? Are the sessions fun? Will they actually improve my child's skills? Let's face it, between time commitments and financial investments making sure the extra lessons are worthy of both is essential.
This is why I am such a big fan of CoachEasy. We can find great options fast and efficiently, while our children get an awesome opportunity to learn with the elite. (Some of these coaches have even had a hand in helping craft current NHL players.) With CoachEasy we as parents can suss out the experts in a quick and super easy manner. For the children, it means helping them improve in a style and atmosphere that best helps them achieve their goals.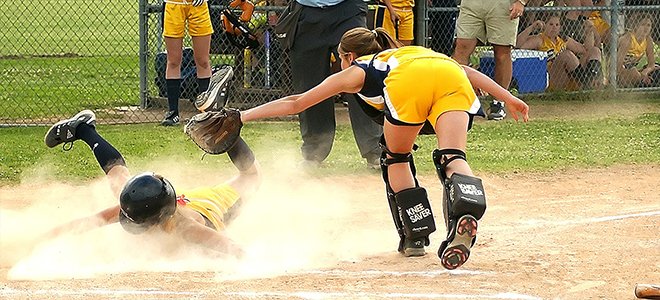 Reasons For our Kids to Train with a Pro
Let's take a step back though and discuss why it is so important to be picky when choosing a coach or trainer. Parents, in the past we had to trust these trainers without getting to know them, without seeing their credentials, or, in most cases even understanding what they are going to do during a lesson. There are a lot of considerations we had never even thought of. Like, does the coach use the age and size of the kids to decide on drills, what is their training style, do they keep it fun, and what guarantee is there that the lessons will pay off?
When you work with a proven trainer who specializes with youth, they do understand how important age appropriate drills are. They know how to be the role model parents expect. They have an arsenal of strategies and techniques to help our kids improve. They can teach individually as well as in a group setting. They make it seem easy to balance discipline and fun. Being a trainer for kids and adolescents is not as easy as it seems, so parents, we need to make sure we are doing our part to pair our sporty youths with the right coach for their skill level, need, and personality.
SAFETY FIRST!
Learning with a proven coach means our kids are taught proper technique, which in turn means less likelihood of injury. For example, it's no secret knee injuries and concussions are two scary possibilities in the world of hockey so teaching kids how to train properly and how to protect themselves is a key advantage they will use even into adulthood.
Plus, our changing children need protection. Growth plates, muscles strength, and bone density is constantly changing. Having a coach or trainer who understands the physical changes and limitations through childhood and adolescents helps defend those growing bodies from damage. They practice age-appropriate drills and exercises which puts safety first. Check out the image which shows the difference between a healthy four-year-old and nine-year-old's knee. The space between the joint in the younger is normal but makes the knee more vulnerable compared to the nine-year-old's, which why we need to be so vigilant.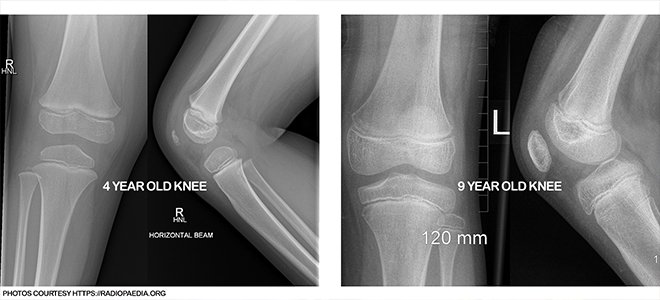 A POSITIVE ROLE MODE
We as parents know that kids need positive role models, especially in the sports world. Someone to push them (the right way), to teach them about discipline and respect, while motivating them and (of course) helping them improve. Trying to assess if a hockey trainer is a positive influence is nearly impossible without spending the time and money to sign your child up for their sports program, so the CoachEasy platform has solved this by allowing reviews and ratings of the coach. Parents, we can do due diligence without a lot of effort. (Yay, us!)
IMPROVE SKILL LEVEL
Okay, so this is an obvious one. At the end of the day we want our kids to excel in whatever they love whether its sports, art, music, math … the list is endless. However, when it comes to sport just putting them on a team may not be enough. Maybe your child is a swimmer with the perfect stroke, but not a great dive, or a fast skater in the hockey game but rarely gets the puck in the net, this is where a specialized trainer is sure to help.
Plus, it won't just improve their skill, but show them that hard work pays off. It's sure to boosts their self-confidence and prove that old adage "practice makes perfect". There are so many side benefits to helping our kids improve their skill level, it will help improve their confidence and life skills too.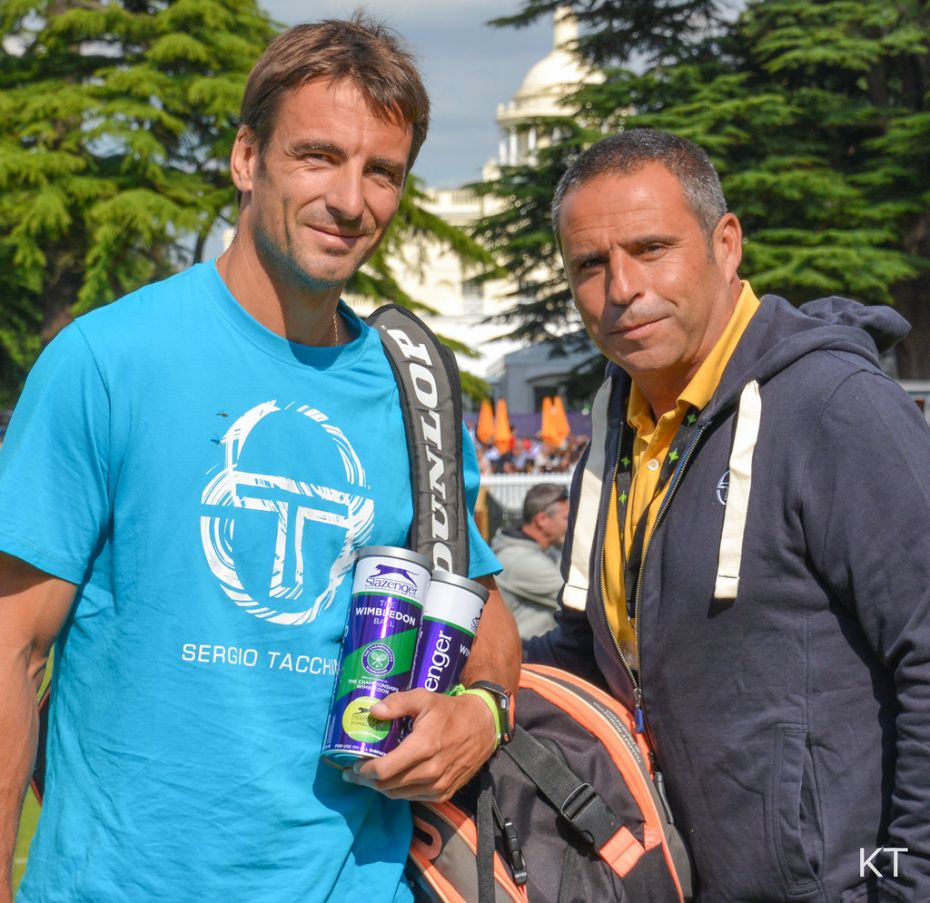 TEACHING THE PROPER TECHNIQUE
The responsibility of learning a technique doesn't lie solely on our children, it's really a two-way street. The instructor must be able to translate the skill and the student needs to be able to implement it. A great sports coach assesses each youth's needs and learning style individually and can personalize their approach to ensure the student understands. With a pro, their experience means they have a lengthy list of teaching tools.
IT'S GOTTA HAVE A FUN FACTOR
No matter how good a sports coach or trainer is, if our kids are not having fun, they (most likely) won't want to go back. A good atmosphere where laughter and smiles go hand-in-hand with hard work and discipline isn't an easy balance to achieve, but a professional youth coach makes it seems that way.
Working with a Coach: The Benefits for our Kids
Working with the trainers has so many benefits. They even go beyond the physical advantages pro training sessions provide. There are lifelong assets like leadership skills, respecting elders, self-discipline, and communication. I delve deeper into the short term and lifelong perks below:
A HEALTHY BODY
Study after study has proven that there is a strong correlation between active kids and active adults. Those who were involved in sports from a young age are much more likely to continue with working out in some capacity as an adult. Providing our children with the opportunity to improve through a trainer will help keep our kids interested, in turn keeping them in sports longer.
Working with a pro has tons of short-term benefits too. It teaches our children the limitations and advantages of their body depending on age, shape, strengths, and weaknesses. This helps keep their body stay safe when practicing or exercising on their own.
A WINNING PERSONALITY
Sports teach our children valuable social skills and helps shape personality traits; adding professional trainers into the mix certainly enhances both. Here are a few examples:
Time Management … they need to be there on time and find the time to practice at home.
Leadership … this doesn't mean they need to be the captain of the team, it means they are accountable for the position that they play on the team and a role model of sportsmanship.
Respect … a coaching session requires our youth to respect authority, rules, and schedules. Some of these coaches are in high demand, so if our kids don't respect one of these three attributes our child could lose their spot.
Communication … having to listen to and implement instructions from their trainer, explain why they don't understand or are having problems are just two examples how communication is taught in these settings.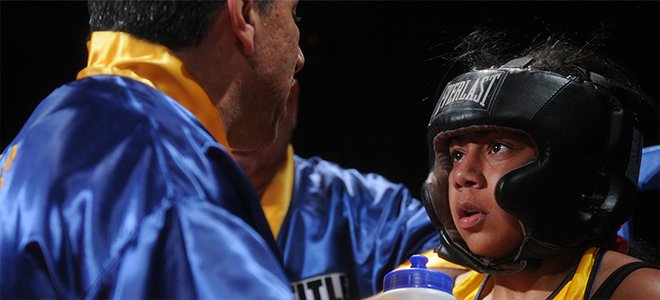 TRYING NEW SPORTS … WITHOUT A COMMITMENT
We want our kids to be open to new things. Whether it's something on their dinnerplate, a hobby, or a sport. Since we are discussing sports, let's focus on that. What happens when our children lose interest in their sport or don't even have one yet? What better way to let them try something new, without a big financial, time, or emotional commitment than by signing them up for a one-time session with a trainer? It's such an easy way to see if a sport of interest is worth pursuing or not!
Find the Right Coach For Your Youth
Now that you know how a trainer or coach can inspire and improve your child's sports skills it's time to find one! Sign-In to CoachEasy and start your search. You can filter the coaches by their specialty and schedule, read reviews from kids and parents, and take advantage of special offers.